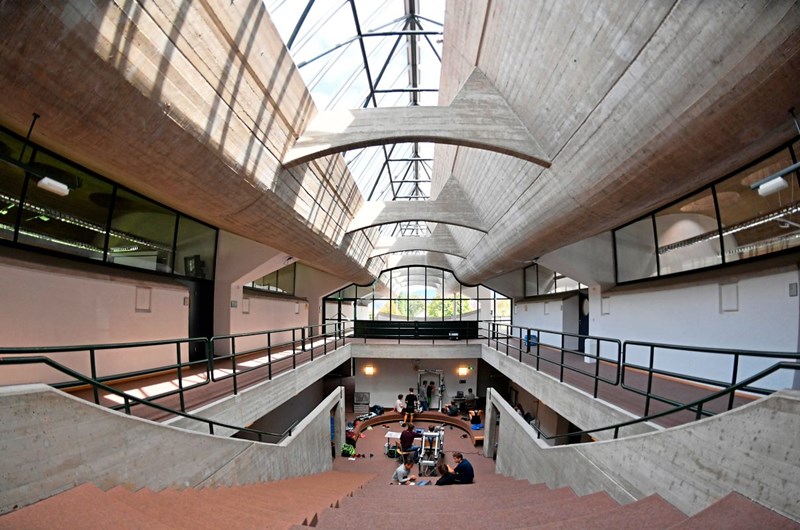 Nicola Werdenigg's revelations in DER STANDARD about sexual abuse in the world of ski racing has encouraged other victims and witnesses of abuse to tell their stories. That second group includes a former Austrian Ski Federation athlete, who describes the practice of "pasting" that he witnessed while at the ski boarding school Skigymnasium Stams, a practice he says was a form of sexual abuse that is often trivialized. "Pasting," he says, was a "deeply sexual power game" that went "far beyond initiation rituals." Stams is the elite school of Austrian skiing. Graduates of the institution, which celebrated its 50th anniversary this year, have won more than 300 World Ski Championship and Olympic medals.
The former Stams student contradicts the school's current director, Arno Staudacher, who has described the practice as merely smearing a bit of shoe polish on someone's backside. Instead, the former student says, "toothpaste or a more-or-less sticky substance would be administered" to victims. "That means, a tube would be inserted." The assaults rarely took place in secret, the witness tells DER STANDARD in an interview. "Usually, it was to set an example. The idea was for as many other people as possible to know it took place." Recently, several instances of abuse from Stams and the ski middle school Neustift have been reported to the victim support agency in Tyrol, the mountainous Austrian canton in which the schools are located. The most recent case is from just three years ago.
STANDARD: In Stams and other ski boarding schools, the practice of "pasting" was, or still is, extremely common. What do you associate with the term?
Pasting was and is a deeply sexual power game that goes far beyond initiation rituals. For me, it is unheard of for the current director of Stams, Arno Staudacher, to trivialize it and say that it merely involves smearing a bit of shoe polish on the buttocks. It's not some cute initiation ritual. Rather, entire generations had their pants violently jerked down, usually by older and stronger athletes. And depending on how insubordinate the victim was before, toothpaste or a more-or-less sticky substance would be administered anally. That means, a tube would be inserted. The worst would be grip wax designed for wet snow in cross-country skiing.
STANDARD: In what sort of situation would pasting take place?
It rarely took place in secret. Usually, it was to set an example. The idea was for as many other people as possible to know it took place. It's not some kind of half-romantic story, it's blatant violence. Pasting victims would sometimes stand in the shower for three hours afterwards, and not just to clean themselves. They would sob out of shame, despair and anger.
STANDARD: What happened to you personally?
I neither took part in pasting nor was I pasted myself. Not everybody was subjected to pasting, but very many were. As a younger student, I once got into an altercation with an older student in the cafeteria, a place subject to a rigid hierarchy. But when a faculty member showed up, I accepted all the blame. That impressed the older student. Still, I almost became a victim of the power games at Stams. I escaped by risking everything in races and during training, by pushing it to the limit every weekend – getting drunk and breaking all the rules. That won me respect from the top dogs.
STANDARD: How could this disgusting tradition have survived for so long?
It's about power and hierarchy. The young ones present a challenge to the older ones, but the older ones don't want to make room for them, so they subordinate the younger ones. It's something that passes from one generation to the next. For those subjected to it, it was perhaps a way of processing what happened to later become a paster themselves. Many victims became perpetrators. Pasting was an insidious part of normalcy, of the day-to-day. Teachers and other faculty weren't around when pasting took place, but they often know what is going on because they, too, went to the Stams boarding school.
STANDARD: Did all those who were pasted manage to get over it?
Certainly not. It traumatized many, some of them severely. Only the best were accepted to Stams. Some were worn down by their ambition, while others were pushed to the limit by ambitious parents. But many don't manage to get through the first one or two years, and that almost certainly is also related to pasting, which was inherent to the system. This system broke many young people and plunged them into identity crises, a huge number who aren't talked about. I find the claim revolting that "those who graduate from Stams have a solid foundation for a successful life." Many have to process the abuse they experienced throughout their lives. Very few have help. That explains why drug use is so high among dropouts.
STANDARD: And those who have found success in life and perhaps also in sports? Have they simply repressed the pasting?
It is part of the mentality of top athletes to push themselves to the limit and beyond. They do it every day. You take risks and become less sensitive, you rape your own body by repeatedly pushing yourself beyond your physical boundaries. That expands the definition of normal. Many young people deal with the issue of sexuality in a similar manner; sensitivity is certainly not in the foreground. A lot becomes normal that is far from normal in the world outside of sports.
STANDARD: How great of an influence do coaches and equipment technicians have?
They have a huge amount of power. Who does the coach put into a race when he has a number of skiers who are all of roughly the same ability? Which racer gets the fastest skis from the technician? What does she have to do for it? I'm not surprised at all by the fact that many athletes, both male and female, were and are sexually profligate. If you want to survive the system, you have to be relaxed about the issue and accept or repress the elements of power and violence. Otherwise, you'll be filtered out and left to your own devices. Everyone wants to be number one. Hardly anyone is interested in number two anymore. And nobody cares about those who leave Stams after just three weeks because they weren't mentally up to it.
STANDARD: Nicola Werdenigg recently spoke of being raped by a teammate in the 1970s and hinted that she knows about assaults that took place in the 2000s. What do you think of Werdenigg?
I think it's great that she stepped into the public spotlight, it shows terrific strength. Finally, these decades-old structures are being seriously questioned – only now, even though generations have seen things. Werdenigg's step is a great help to many victims and contributes to the avoidance of future acts of violence. (By Fritz Neumann, Translated by Charles Hawley)